The Complete Python Programmer Bootcamp 2020 by 365 Careers, Giles Mcmullen-Klein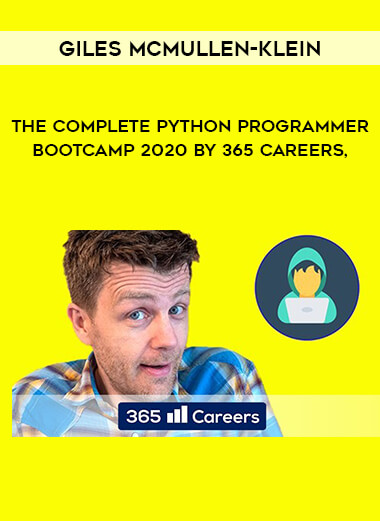 Salepage : The Complete Python Programmer Bootcamp 2020 by 365 Careers, Giles Mcmullen-Klein
Courses Content
What you'll learn
How to program in Python
Best practices of Python 3 programming
Coding fundamentals
How to think computationally
Problem solving with Python
Create Python charts in Matplotlib
Implementing Object oriented programming (OOP)
How to create classes for the purposes of OOP
Advanced Python coding
How to work with different IDEs
How to put theory into practice with help of numerous exercises
You will also receive downloadable lectures, code, and course notes
Python Programmer Bootcamp 2020
This Python course is different. It will not only teach you Python, it will give you a problem solving super-power using Python code! And that will make all the difference, especially if you are pursuing a career in data science, AI, web development, big data, web testing, or programming for smart devices in Python.
The author of this course, Giles McMullen-Klein, is a British programmer who went to Oxford University and used Python for his research there. Giles is one of the best-known Python and data science vloggers on YouTube where more than 133,000 subscribers follow his videos.
There are several reasons why this course is different and why Giles could be the perfect Python teacher for you:
Engaging, informative and fun! Giles' lectures are entertaining and will inspire you to learn Python
Motivating ,enthusiastic and effective – Giles' passion for coding in Python and teaching the language is infectious
Develop a thorough understanding of Python
Carefully crafted lectures and superb quality of production (Full HD videos) + animations and callouts
Practice, practice, practice – the course contains dozens of exercises to help you master the Python programming concepts covered in the lessons
Giles' English accent 😀
Have you always wanted to learn one of the world's most popular programming languages? If so, this is the perfect course for you. It will teach you how to program in Python and help to prepare you for coding challenges frequently posed during job interviews.
Giles' teaching style builds a connection with students. And what's more – he's there for you if you need any help. Just post any queries or questions in the course Q&A section.
File size: 8.2GB
Author
The Complete Python Programmer Bootcamp 2020 by 365 Careers, Giles Mcmullen-Klein
More Courses From : The Complete Python Programmer Bootcamp 2020 by 365 Careers, Giles Mcmullen-Klein