RSI Divergence Trader Pro V1.3 EA Robot Fx +No Bugs + Unlimited License (MT4)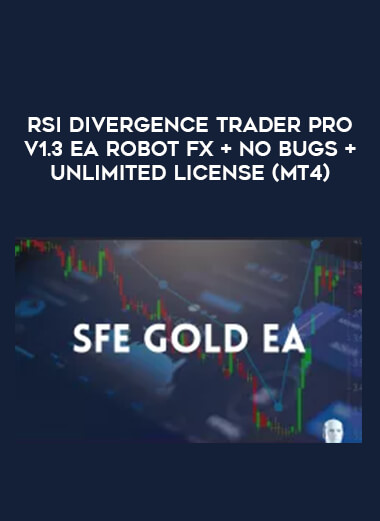 Salepage : RSI Divergence Trader Pro V1.3 EA Robot Fx +No Bugs + Unlimited License (MT4)
Courses Content
RSI Divergence Trader Pro Fx Robot EA
Fx EA – specifically designed for new traders.
The right SETTING is the main factor to determine whether your EA make profit or lose.
We provide you all the set files and EA to make sure your EA is PROFITABLE!!
Overview:
I believe that the RSI is the best indicator out there and most of the times, a divergence on the RSI is a strong hint for a good entry. But what do you do if, after the entry, the trend is strong? And how can you isolate the best and most profitable RSI divergences? Those where my questions when I started working on this EA.
First of all, there are two terms that I want to define. One is "signal" – which I call the RSI peak; and the other one is "entry" – which I call the actual opening of a trade, where the divergence is present.
So here are some of the answers I came up with to the questions in the first paragraph:
– For choosing the right signals:
– Filter based on RSI values
– Filter based on Price Action – the signal should only appear after X points already traveled, because divergences tend to happen at the end of a trend
– Filter based on ADX values ​​- you can use ADX as an additional indicator, along with RSI
– Cancel the signal if a counter-signal appears – this means, you cannot have a buy signal and a sell signal at the same time. The trend will go either up or down
– For choosing the right entry:
– Define min and max distance from the signal – in terms of time and price difference
– Filter based on Price Action – buy only if price is in the lower Y% of the past Z bars = buy low, sell high
– Filter based on ADX +DI and -DI values, or on ADX divergences
– Only enter in case of a multi timeframe divergence
– Order management:
– Exit trades at fixed take profit or based on a divergence in a different direction (DTP – dynamic take profit)
– Fixed or trailing SL
– Automatic lot size calculation
– Manage your trades with a grid option
– Increase or decrease lot size
– Increase or decrease grid entry distance
– In case something goes wrong:
– Lock trades after a certain drawdown percent
– After locking, the EA can continue to look for divergences on the same or on a different timeframe and use the new profit to partially close the loss
– Or use a fixed or a trailing stop-loss
Author
RSI Divergence Trader Pro V1.3 EA Robot Fx +No Bugs + Unlimited License (MT4)
More Courses From : RSI Divergence Trader Pro V1.3 EA Robot Fx +No Bugs + Unlimited License (MT4)