RAKAMAN LENGKAP 2HARI 1MALAM BBMASTERY THE GAME CHANGER WORKSHOP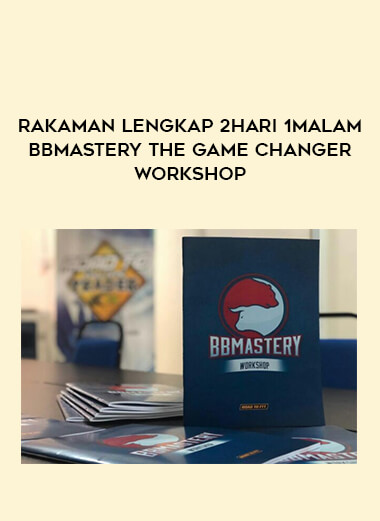 Salepage : RAKAMAN LENGKAP 2HARI 1MALAM BBMASTERY THE GAME CHANGER WORKSHOP
Courses Content
Product Description
BBmastery The Game Changer Workshop satu-satunya program paling lengkap pernah Coach hasilkan dan kongsikan.
Program ini disertai dari pelbagai negara, Malaysia, Singapura, Indonesia, Brunei.
Program ini Coach kongsikan dengan padat 2 hari 1 malam, daripada basic, intermediate dengan advance.
Ini lengkap bukan sahaja teknik, malah saikologi, money management, dan pengalaman Coach 11 tahun.
Rakaman penuh BBmastery Workshop.
Rakaman 2 hari 1 malam penuh.
Belajar dari basic, intermediate hingga advance.
Support group. (bonus)
Satu koleksi EVIDEO BBmastery untuk anda. Semua video yang diedit dengan profesional di masukkan.
Workbook Edisi Workshop.
Ini RARE, pasal ini workbook asal untuk anda gunakan semasa belajar nanti. Ibarat dalam workshop.
BASIC TO ADVANCE dari segi teknikal, saikologi, emosi, money management, trend, single timeframe, multi-timeframe, capital trading, state management dan macam macam lagi.
DISCLAIMER:
SUITABLE for ALL TYPES of MARKETS such as STOCKS and OTHERS because In addition to EMPHASIZING PROFITABLE TECHNIQUES for the market SELL and BUY there is video content that emphasizes PSYCHOLOGY, EMOTIONS, ATTITUDES, PLANNING, RISK / MONEY MANAGEMENT and OTHER FACTORS that will GUIDE YOU to BECOME a SUCCESSFUL TRADER  CONSISTENT This is because LONG-TERM COACH provide guidance on YOU TUBE CHANNEL JUST FOR FREE.
EVIDEO & PDF
Author
RAKAMAN LENGKAP 2HARI 1MALAM BBMASTERY THE GAME CHANGER WORKSHOP
More Courses From : RAKAMAN LENGKAP 2HARI 1MALAM BBMASTERY THE GAME CHANGER WORKSHOP