Motion Guru – Complete Modeling & Animating a Drone in Blender 3.0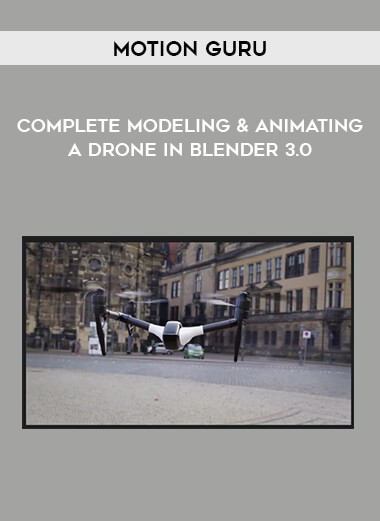 Salepage : Motion Guru – Complete Modeling & Animating a Drone in Blender 3.0
Courses Content
Halo guys!
we are back with another very interesting Drone modeling an animation course. As you might know, modeling and animating a character or object is one of the most popular profession in the world.
So if you are looking for a good job with High salaries and benefits, then I recommend you to learn modeling and animating. Because with that, you can find job and earn money in all over the world.
On the other hand you can start learning with a free software called blender as you may have heart. Blender is perfect for anyone interested in learning 3D. If you are new to 3d entirely, this course will take you through the fundamental step by step. You'll learn both how to do things, and why things should be done certain ways.
In almost all my blender courses, I have talked about modeling and animating, which is very useful for you, and if you like, you can see it in Motion Guru udemy page.
But in this Drone course, after you are familiar with the blender interface and some of its short cuts, we will enter the modeling section and learn modeling very easily.
In the modeling section, you will get acquainted with useful tools and learn how to use them professionally while doing work.
After completing all the steps of modeling the drone, we will move on animating, lighting and adding materials to the drone.
In the animation section, we will deal with the two sections of timeline and graphic editor. Most of our work is with the Graph Editor section. There I tried to introduce you to keyframes and handles and how to rotate and move very simply.
Finally, we will adjust the rendering and composite settings and get an animation rendering from our drone, which you can see in the demo.
What Topics are Covered?
This course covers a wide range of topics like
3D Modeling and the most common tools such as subdividing, extruding.
You will learn about  Modifiers, which are special modeling effects that you can use for complex modeling tasks.
We will create Materials.
How to illuminate thescene using Easy-HDRI add-on (free).
Learn how to animate the Drone in a easy and professional way.
Learn how to position your multiple Camera in your scene and animate them for making an animation of your scene.
Get introduced to two different Render Engines, Cycles and Eevee, which are used to process your scene into an animation render.
This course has everything you need to get a strong start with Blender and 3D, so I hope to see you in there!
Who this course is for:
Anyone interested in learning computer graphics, or switching from another 3D software to Blender
This course can be your expanded version of the Blender manual.
Author
Motion Guru – Complete Modeling & Animating a Drone in Blender 3.0
More Courses From : Motion Guru – Complete Modeling & Animating a Drone in Blender 3.0