Lion Zeal – Agency Immersion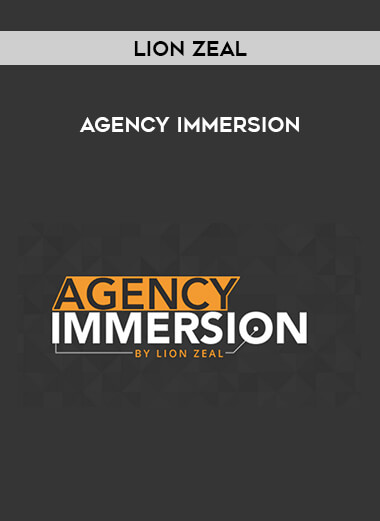 Salepage : Lion Zeal – Agency Immersion
Courses Content
9.16 GB
How To Start, Scale, and Manage your own SEO Agency
. Without Enslaving Yourself To Clients
A 10-Module Training Program To Help You
Start, Manage, and Scale Your Own SEO Agency.
Specifically, it's the exact replays of the original $2,000 bootcamp, with newly revised and expanded training. and it's all in a membership area that you'll have lifetime access to.
That means you'll get instant access to all 10 modules:
Module 1. The Foundation
The first module is about laying the groundwork for your agency. Client acquisition and growth is important, but without a solid plan and foundation, you won't get anywhere.
Here you'll learn:
How to instantly make your agency stand out from every other apparent SEO expert so you aren't competing with $150 per month SEO's
How to determine your most ideal clients, so your marketing is laser focused to stand out to great potential clients
What services you should be selling (Hint: it's not just a monthly retainer), so you can make the most money without scaring away clients with expensive retainers
How to price your services so you're not pricing yourself out of the market, or under-valuing yourself
Module 2. Agency Setup
In module 2, you'll learn how to get your agency setup and ready to begin taking on clients. Including:
How to setup your agency site so it doesn't just "look pretty", but actually converts your visitors into leads
How to write the copy on your site so you don't look like every other agency that needs to compete on price
A simple approach to find your first paying client in the next 2-3 weeks, so you can immediately start generating cashflow to invest into growing your agency
How to setup your company before getting clients, so you look more professional and don't put off companies from working with you (extremely important for people targeting Europe)
Module 3. Prospecting
In module 3, you'll learn how to find your ideal clients to reach out to and convert into clients. This deserves an entire training on it's own and is the most underrated part of building an agency. Here you'll learn:
Where to find hot lists of your ideal prospects which gives you an unlimited supply of leads to advertise to so you can consistently complete outreach
The biggest mistake most people make when building prospecting lists, understanding this will bring you better quality leads that are easier to sell high-end services to
Which elements to look at in a business to qualify them as an ideal clients, doing this will save you hundreds of hours and potentials thousands of dollars of wasted advertising
A list of recommended go-to sites that you can immediately go on and begin prospecting so there's no need to guess, just go on the recommended sites and get started
Hidden sources you can tap into that most people completely miss out, this takes extra research but gives you better quality leads, and guarantees you aren't promoting to the exact same businesses as everyone else
Module 4. Outreach
In module 4, you'll learn how to reach out to your ideal clients to get them interested in your services, and how to later follow up. Here you'll learn:
The single most effective "style" of marketing for selling SEO services, so you can turn cold leads into 4 figure per month clients, without being stuck competing over price
How to create "video audits" that hook cold leads and turn them into hot ready-to-buy leads so you can get real responses from cold outreach without lowering your prices
How to use the "fake video audit" method to half the number of videos you need to create (or less) so you can reach 3-5x more businesses with your daily outreach
How to create automated webinars for selling SEO services so you can sell to more prospects with less work
How to write cold emails that demand attention, hook prospects, and generate responses without breaking any laws or sounding like every other agency in the world
The biggest misunderstanding about lumpy mail and how to do it properly so you can position yourself as an expert and turn the tables so clients actually want to hire you
How to bypass gatekeepers on the phone for cold calling or follow up, so you can speak to the decision maker directly (and actually have a chance of closing the deal)
The 2 different cold calling approaches for selling high-end services over the phone (1 of these is completely different to what most people do), so you can develop a skill to generate clients on demand, without having to do hundreds of calls just to figure out how to approach it
The only 5 outreach methods you should use to attract your first clients, including exact templates and scripts to use, so you can shortcut your testing and copy/paste my proven processes
How to follow up with your prospects 5-10x until they're ready to buy, including templates and scripts, so you don't miss easy client opportunities (since most clients will only sign after follow up)
Author
Lion Zeal – Agency Immersion
More Courses From : Lion Zeal – Agency Immersion