Learn to Draw Beautiful Anime Drawings on the iPad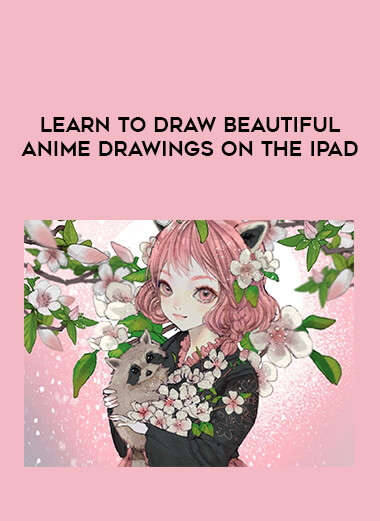 Salepage : Learn to Draw Beautiful Anime Drawings on the iPad
Courses Content
Do you want to draw magical illustrations?
The magical world I create through my drawings provide a way I can escape the worries of reality and express my imagination through art. Through this class I hope to help you draw your own world as you imagine it, on paper. Figuratively.
Drawing with Procreate
The drawing tool we'll be using in the class is Procreate, an application on the iPad. I'll start by teaching you the basics of the program, how to use the basic tools, use layers, etc. After you've mastered the basics, I'll let you know the special tricks and techniques I use when I draw.
Following Along at Home Using References
Even if you're a beginner, I'll explain slowly so you can follow along. I will gradually work through the process of drawing a rough sketch, adding in background colors, and completing the painting with contrast and light expression.
The perfect class for all levels
I wanted to create a class where people of all levels could walk away with something special. I'll show you everything you need to know to create character illustrations on your iPad, from the very basics of drawing to the more difficult techniques of visualization, and even editing your illustration after drawing.
Recreate characters in your own style
When drawing a character illustration, the importance is in capturing the characteristics of your subject. For illustrations with an animated feel, you need to use colors well to create that unrealistic atmosphere! I will tell you how to arrange and combine colors so that you can draw an illustration that catches people's eyes.
Facial features that make hearts flutter
I always focus on the eyes when drawing people. I think the eyes are the gateway to a person's character and personality. I'll show you how to draw faces that capture the charm of your characters and reveal my personal techniques for adding details to the face.
Drawing Characters
The first step to drawing a beautiful illustration is the sketch. I will teach you how to sketch people. "Deforme" is a drawing technique that expresses characters by applying transformations, reductions, and distortions to people without realistically depicting them, and using them to draw cute characters.
It is much easier to draw figures if you understand the basic composition and structure of the human body. After learning the basics, I'll help you practice by drawing different characters. I'll also reveal my secret to drawing hands, something that many people struggle with!
Creating your own unique characters
In order to draw well, it is important to apply the skills you learn and make them your own. I'll tell you about my character creation process. Then it's up to you to take what you learn and create your own unique characters.
Drawing concept illustrations
With the character in the frame, it's now time to tell your story. You don't need to fill the background completely. Learn how to visualize your scene to make your character stand out and effectively emphasize the story you're telling. Objects with their own meanings come together to form a background, and through this, your picture can be enriched. I'll walk you through two styles, western and oriental, of drawing scenes.
Reinterpreting people based on photos
Have you ever wanted to recreate yourself or someone you know into art? After observing the unique features and characteristics of the people around you, I'll teach you how to express real people as characters based on a simple face ratio.
Author
Learn to Draw Beautiful Anime Drawings on the iPad
More Courses From : Learn to Draw Beautiful Anime Drawings on the iPad