Joshua Lisec – The Best Way To Say It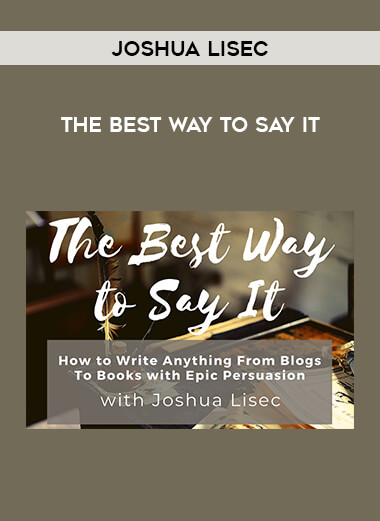 Salepage : Joshua Lisec – The Best Way To Say It
Courses Content
The Best Way to Say It: How to Write Anything From Blogs to Books with Epic Persuasion
This is a proven, repeatable system anyone can use to go from content chaos to clear, compelling writing that influences people to act without them realizing it.
Finally, a way to unleash your genius, say what you mean, and write anything right the first time with maximal persuasion even if you're NOT a professional editor, a "6-figure" copywriter, you just hate writing, or English isn't your first language.
It's one thing to write something without typos.
It's another thing to write something that gets people to act.
To read. To click. To subscribe. To buy.
Persuasive writing is a system.
It's not a skill.
It's not gut instinct.
And it's not inspiration or luck.
If you could easily learn this step-by-step system and become a persuasion maestro of the written word so you hook readers from the first line, make your ideas just "click," and motivate people to take swift, decisive, profitable action… Would you?
If you want world-class persuasive content for your business, your brand, or your book,
You could hire an expert ghostwriter at $1.00 per word.
Or… You could scoop up some Fiverr freelancer for twenty-five bucks and tell them what to write.
Or worse, you get a "Scribe" to interview with you, delete the uh's and um's from the transcript, and call it done.
In either case, you spend 3 hours rewriting it and regretting every second of it. Would have been cheaper just to write the blasted thing yourself.
Or… You could get The Best Way to Say It, my reliable process to unleash your genius, say what you mean, and write something people actually want to read.
Every. Single. Time.
No self-doubt, no self-censorship, no writer's block.
And no expensive, net worth-draining copywriters required!
You get my proven, predictable process to:
come up with a maximally persuasive idea people have never seen before
decide what to say about it (and what not to) so you save time
structure all your notes into an order so clear, it reads itself
refine every point, story, and example to the point there is literally no better way to say it
search engine optimize the crap out of your content so ready-to-buy customers find it
write a competition-killing bio that positions you as the go-to expert in your niche
I'll give you everything you need to know to write any piece of content the right way on the first try.
Articles.
Blogs.
Chapters.
Emails.
Landing pages.
Sales letters.
Scripts.
Social media posts.
White papers.
Anything.
Who is this for?"
The Best Way to Say It is designed for anyone who knows what they want to say but isn't sure how to put it into words.
That includes authors, business owners, coaches, consultants, copywriters, creators, entrepreneurs, freelancers, marketers, salespeople, speakers, and trainers.
If you have something to say, this is for you.
The Best Way to Say It has worked for industries ranging from general business and sales to healthcare and enterprise software. I've made compelling writing a system, not a goal.
Author
Joshua Lisec – The Best Way To Say It
More Courses From : Joshua Lisec – The Best Way To Say It