Ian Copsey Fractal & Elliott Wave Book and Videos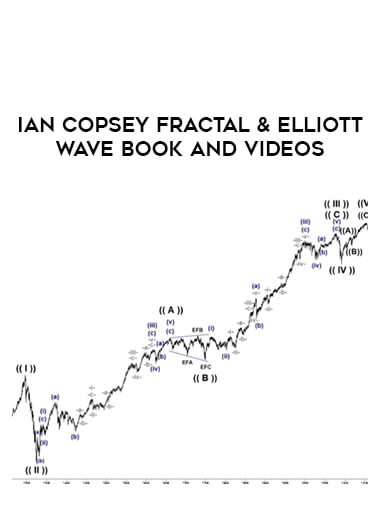 Salepage : Ian Copsey Fractal & Elliott Wave Book and Videos
Courses Content
Product Description
Fractal Forecasting provides a comprehensive guide to employing Harmonic Elliott Wave along with complementary technical analysis methodologies to assist the forecasting process. It should be noted that forecasting is just one facet of trading/money management and needs to be controlled for more effective development.
From the Author
Since my 2010 tutorial, during which I discovered the consistency of wave projections within 3-wave structures, my ability to forecast – particularly Wave (iii) and Wave (iv) – has grown considerably. The very initial forecast I made for the DOW Jones Industrial Index in "Harmonic Elliott Wave" was the very first time I had ever been able to make credible forecasts in equity markets. Before that moment I had avoided analysing these markets. From that time, while there are always challenges (particularly in the lower – intraday – charts) the application of Harmonic Elliott Wave has provided me with many direct hits including the top of the first 5-wave rally from the inception of the DOW – identified 2-years in advance.Of course, there are tricky parts to the development and this requires application of supporting evidence through complementary analytical techniques to identify elements such as timing (cycles) momentum (multi-timeframe) to provide directional information and clear support & resistance areas. The wave structure itself also offers key targets at times
REVIEWS
Harmonic Elliott Wave (HEW) is the most intriguing new breed of Wave Principle I have ever encountered since I initially started using the Wave Principle over 20 years ago.
✅One of the largest advantages of HEW, in my opinion, is that HEW's consistent ratio structure significantly reduces the subjectivity of wave counting inherent in the conventional Wave Principle.
✅Also, HEW projects a single uniform structure under a forward-looking (ex-ante) discipline.
✅This significantly reduces the need to adjust a wave count.
✅Even when adjusting is made, the discipline of the ratio structure still must be adhered to.
✅Furthermore, the eradication of extended waves, failed fifths and leading/lagging diagonals also dispenses with the need to persistently re-label wave counts in hindsight.
✅With far-reaching implications for traders and investors everywhere, I recommend this tutorialas a must-read for anyone interested in the Wave Principle.
Author
Ian Copsey Fractal & Elliott Wave Book and Videos
More Courses From : Ian Copsey Fractal & Elliott Wave Book and Videos