Chris Hein – Winds Compact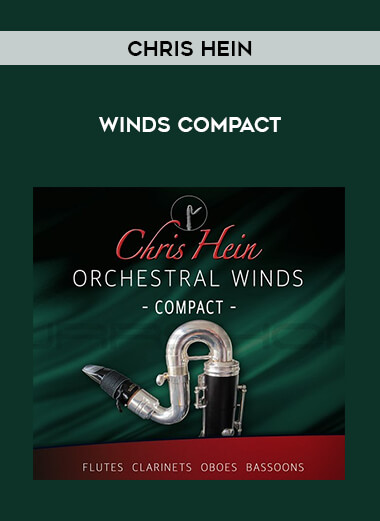 Salepage : Chris Hein – Winds Compact
Courses Content
9.08 GB
Orchestral wind instruments for your computer in unheard of perfection!
Chris Hein Winds Compact is a light version of the unique four-part Winds Complete library. She offers the same number of instruments: four flutes, three clarinets, three oboes and three bassoons.
For the compact version, we have collected the most important and common elements and features of the full version. At the same time, this woodwind library undoubtedly meets the highest standards for the highest sound quality, expressiveness and applicability. The library's tools use carefully crafted multisamples with detailed phase alignment to correctly phase match and dynamic layer crossfades. Up to eight dynamic layers guarantee realistic sound.
The exceptional and versatile sound quality of Chris Hein's Winds Compact makes it the ideal addition to any orchestral library, especially for woodwind performances whether in classical works, epic film scores or orchestral pop ballads.
Among the undeniable advantages of the library are true legato
, variable attack on a note, innovative aids such as hotkeys, note headers and remote control of all functions via MIDI via TouchOSC.
If you don't need the sheer volume of articulations required by many elaborate scores, Chris Hein Winds Compact offers an efficient selection of woodwinds to meet the highest sonic expectations.
Chris Hein Winds Compact relies on the powerful Kontakt sampler engine, with its custom-tailored user interface and extensive scripting suite, to meet the specific requirements of these instruments.
Both high-quality equipment, such as select Neumann microphones, and outstanding performances of musicians create a sound aesthetic. Unlike the award-winning Chris Hein – Horns, this library uses the famous WDR Symphonic Orchestra.
All instruments were recorded individually, avoiding crosstalk. Despite this, CH Winds Compact has the inevitable interaction of an orchestra. Therefore, the participating musicians used monitoring headphones to complement each other.
Author
Chris Hein – Winds Compact
More Courses From : Chris Hein – Winds Compact