CFA® Level 1 (2021) – Complete Financial Reporting Analysis by Keith Tan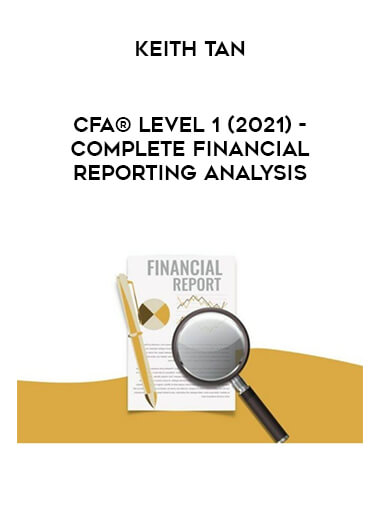 Salepage : CFA® Level 1 (2021) – Complete Financial Reporting Analysis by Keith Tan
Courses Content
What you'll learn
Classify the various financial statement elements (assets, liabilities, equity, revenue, and expenses).
Understand the basic and expanded accounting equations.
Understand the roles of standard setting bodies and regulatory authorities.
Be familiar with the IFRS Framework, and also identify the key differences between IFRS and US GAAP.
Calculate depreciation, COGS, inventory under different cost flow assumptions, basic and diluted EPS.
Distinguish between operating and non-operating items.
Understand the various balance sheet accounts, how they are valued, and what they represent.
Calculate financial ratios and make inferences through the ratios.
Construct a cash flow statement, by either the direct or indirect method.
Distinguish between operating, investing, and financing cash flows.
Apply various tools and techniques used in financial analysis.
Use the DuPont formulas to decompose ROE into its components to interpret a firm's profit drivers.
Distinguish between the different cost flow methods: LIFO, FIFO, and weighted average cost.
Calculate COGS, ending inventory, and gross profit under the different cost flow methods.
Distinguish between capitalisation and immediate expensing of various costs.
Determine if an asset is impaired, and the methods to revalue an asset.
Distinguish between taxes payable and income tax expense.
Understand the circumstances that lead to deferred taxes, calculate and make adjustments to deferred taxes.
Calculate the book value of a bond and the interest expense using the effective interest rate method.
Distinguish between operating lease and finance lease.
Understand how accounting methods and estimates can affect reported earnings, financial position, and classification of cash flows.
Be aware of warning signs of earnings manipulation.
Apply analytic methods to forecast future earnings and cash flows.
Understand the common types of adjustments to financial statements for comparability purposes.
Bestselling and Highest Rated CFA® courses on Udemy!
(for 2020 and 2021 CFA® Level I exam)
The CFA® program is rewarding but gruelling. The majority of candidates fail the exam. In order to pass, you are going to need much more than summaries or crash courses. But we can fully empathise if you feel the curriculum is too lengthy and too difficult given your busy schedule.
That is why we have crafted for you this complete series of 10 courses covering all 10 topics of the CFA® curriculum. These courses are not superficial summaries, but a detailed and concise coverage of the curriculum for each topic area.
File size: 6GB
Author
CFA® Level 1 (2021) – Complete Financial Reporting Analysis by Keith Tan
More Courses From : CFA® Level 1 (2021) – Complete Financial Reporting Analysis by Keith Tan