Blender 3.0 – Satisfying Geometry Nodes Animation by Smeaf Sculpts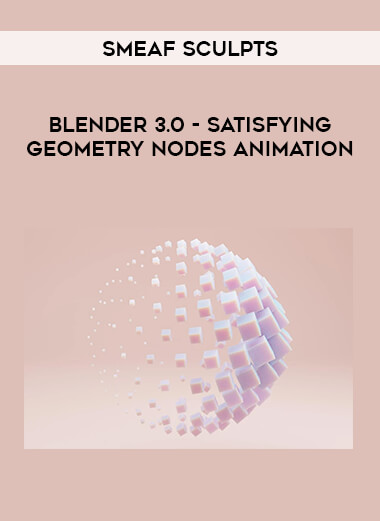 Salepage : Blender 3.0 – Satisfying Geometry Nodes Animation by Smeaf Sculpts
Courses Content
Lessons in This Class
11 Lessons (57m)
Introduction
1:04
Download and Install Blender
0:45
Familiarize Yourself With Geometry Nodes
8:32
Instancing The Cubes
3:59
Defining The Instances Radius
6:35
Creating The Rotation Animation
3:31
Mapping The Rotation Range
9:37
Adding The Rotation to Each Instance
7:01
Looping and Stylizing the Animation
4:12
Materials, Lighting and Rendering
11:29
Outro
0:28
Project
About This Class
In this Skillshare class you will learn the basics of Blender Geometry Nodes.
You will discover how to create an amazing animation utilizing the power of Blender's workspace "Geometry Nodes". Smeaf will walk you through an introduction to the workspace and a brief follow-along demonstration of how Geometry nodes work. After this, you will jump directly into the class project and create your very own procedural satisfying animation with the free open-source software Blender!
A basic understanding of Blender is needed for this class, but, Smeaf will explain every step in detail along the way, we will also be learning common hotkeys to speed up our workflow!
The Programs needed to follow along are Blender 3.0, that's it!
Meet Your Teacher
Teacher Profile Image
Smeaf Sculpts Follow
3D Generalist and Tutorials
Teacher
Hello, I'm Smeaf!
I create tutorials online and have been creating as a 3D generalist for over 4 years now.
When I'm not creating, I am teaching on Youtube and Skillshare! I absolutely love sharing knowledge and techniques with people and I believe it is a gift to be a part of this wonderful world of 3D.
Author
Blender 3.0 – Satisfying Geometry Nodes Animation by Smeaf Sculpts
More Courses From : Blender 3.0 – Satisfying Geometry Nodes Animation by Smeaf Sculpts