Algorithmic Trading: Backtest, Optimize & Automate in Python by Mohsen Hassan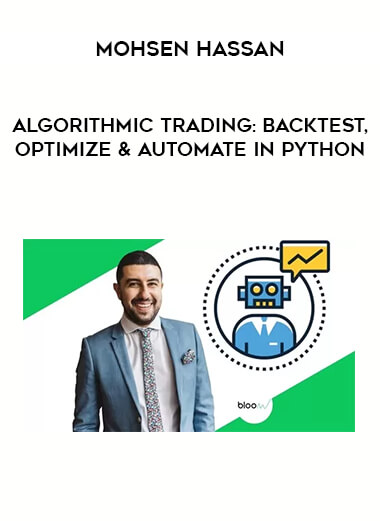 Salepage : Algorithmic Trading: Backtest, Optimize & Automate in Python by Mohsen Hassan
Courses Content
What you'll learn
Use Python to Automate your Cryptocurrency Trading
Load Historical Data and Backtest your Strategy
Optimize your Strategy to Find the Best Parameters to Use
Run the Strategy in Simulation or Live
Connect to Multiple Cryptocurrency Exchanges
Be able to work on a Virtual Environment
Use Open Source Code Freqtrade
Communicate with the Strategy through your Phone
Learn to fully automate your cryptocurrency trading with this course!
This course is taught by a Quant as well as a Python/Cryptocurrency Instructor.
You will learn:
1) How to use freqtrade (open source code)
2) Use a Virtual Machine (we provide you one with all the code on it)
3) Learn How to code any strategy in freqtrade
4) Backtest a strategy so you can see how it would have performed in the past
5) Optimize a strategy to find the best parameters to get the best reward/risk ratio
6) Do a walk forward analysis to see how a strategy would perform with out of sample data (to minimize overfitting)
7) Run the strategy with paper money
8) Run the strategy with real money
9) Connect the code to Telegram so you can communicate with it with your phone.
No python knowledge?
No worries there is a Python primer in the course to get you up to speed on the language 🙂
File size: 12.2GB
Author
Algorithmic Trading: Backtest, Optimize & Automate in Python by Mohsen Hassan
More Courses From : Algorithmic Trading: Backtest, Optimize & Automate in Python by Mohsen Hassan