After Effects Kickstart by Nol Honig, School of Motion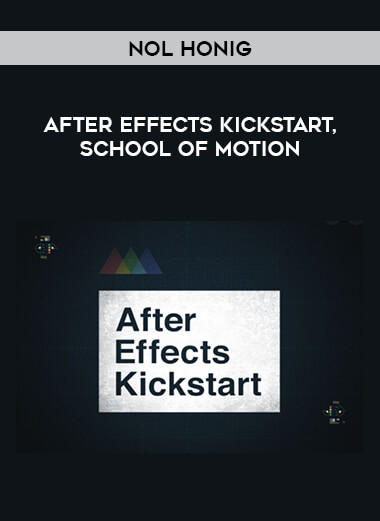 Salepage : After Effects Kickstart by Nol Honig, School of Motion
Courses Content
https://docs.google.com/document/d/1MaABxaPdaNrEuilsVtUhv-YOzZQgk_l-ypucskFIDqo/edit?usp=sharing
After Effects Kickstart is the ultimate After Effects intro course for motion designers. In this course, you'll learn the most commonly used tools and best practices for using them while mastering the After Effects interface.
Course Overview
Week 1
Meet your classmates, get comfy with the course format, and learn some compositing basics. You'll start learning from day one with your first exercise.
Week 2
Your first two big lessons are designed to get you into After Effects as fast as possible. You'll learn the basics of layers, keyframes, timing, and editing. You'll work with sound, and create your first kinetic type piece.
Week 3
This week you'll learn to use Photoshop and Illustrator with After Effects, plus get a crash course in the fine art of Parenting.
Week 4
Our courses are intense, so we built in these focus weeks to give you a chance to finish any work you haven't gotten to. We also throw in a ton of cool bonus content to make sure you never stop learning.
Week 5
This week you'll dive into the world of Shape Layers, an incredibly powerful toolset built into After Effects. You'll learn the ins and outs of Shapes, and then you'll go a bit deeper into Animation.
Week 6
It's time to put all of your new knowledge to good use! It's up to you to animate a full :30 spot over the next few weeks to show off your MoGraph skills.
Week 7 + Week 8
The final 2 weeks of class are Extended Critique. You can use this time to catch up, complete your final project, then turn it in for critique.
File size: 16.2GB
Author
After Effects Kickstart by Nol Honig, School of Motion
More Courses From : After Effects Kickstart by Nol Honig, School of Motion